All Organic! Amazon Choice Award Winner. 🏆 Locally Grown in Arizona. Order Today! 📦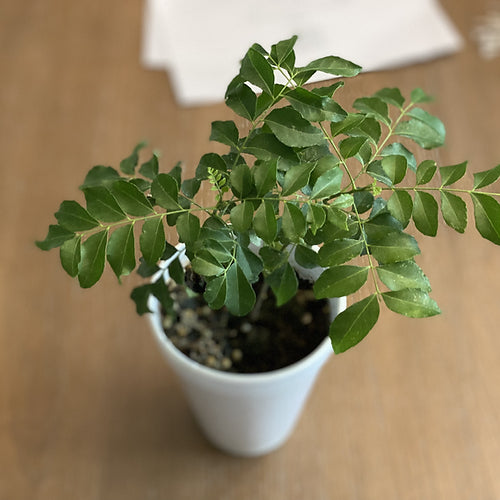 Healthy Curry Leaf Plant 6 Inches
Regular price
$34.99 USD
Sale price
$27.99 USD
Unit price
per
Sale
Sold out
Indian Kadi Patta, also known as Curry Leaf Plant. This will be packaged perfectly, will arrive in great condition. Instructions on how to grow available. Easy to grow after arrival. We have over 200+ 5 star reviews on this product. Start your gardening project today.
4.96/5 Rating

100% Organic

Free Shipping
View full details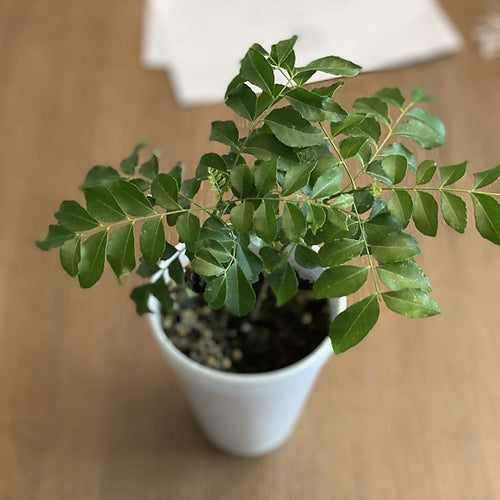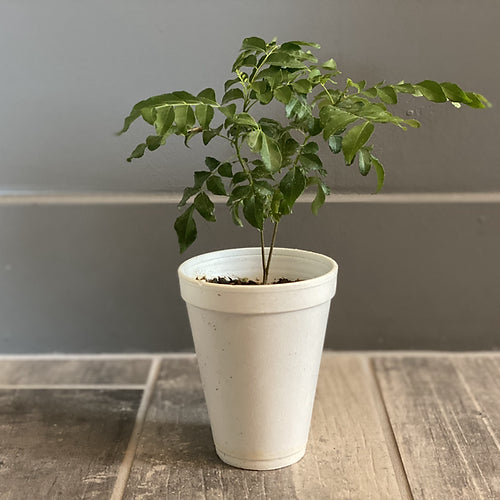 Our curry leaf plants make you happy!
What do those who purchased recently have to say?
This clipping 🪴 will actually grow because it's already branching . VERY NICE.

I've been trying to get a picture to go through to show you this beautiful center cut curry clipping that is already growing out of the middle. I've been buying clones for the past 6 months and they are all 4-8 leave sections that are just sitting there doing nothing. I

Wonderfully packaged, 📦healthy plant! 🤩

Really pleased with the delivery and condition that my curry plant arrived in. Healthy, happy, bright green leaves! It is doing well so far and adjusting nicely. Really appreciated the care instructions included. Would order again in the future!

What a gift!! A nice healthy plant 🌿

Nicely packaged, healthy plant with great care instructions.

So glad to have found this online! 💖

Was absolutely stoked to find Kumar's curry leaf plant on Amazon for sale. I have been looking everywhere near me in California for a steady supply of curry leaves and as a last resort, have been using dried curry leaves as a poor substitute. Very happy now to have found this fresh potted plant....

Healthy plant; excellent packaging. 💯

Picture is of plant repotted after one week. It is vibrant green not the odd yellowish appearance in this photo. Will keep in pots over what we call winter in north Florida, then plant in the ground. Vigorous plant. Lovely aroma even at this size.

Quick & Perfect! ⭐⭐⭐⭐⭐

This plant delievered in just 3 days, looking so fresh and healthy. Thanks to the seller for giving instructions. I would recommend buying this plant from this seller.
READ AND LEARN MORE ABOUT GROWING CURRY LEAF PLANTS
OUR PLANT BLOG
My dad was a farmer....and he loves curry leaf plants
Tips for Healthy Curry Leaf Plants Curry leaves are a staple ingredient in Indian cuisine, used for their distinctive aroma and flavor. But did you know that these leaves also...

Tips for Healthy Curry Leaf Plants Curry leaves are a staple ingredient in Indian cuisine, used for their distinctive aroma and flavor. But did you know that these leaves also...
Growing plants is in our blood.. born in India raised in USA.
Quality & Care

Our plants always come with quality in mind, we want you to only have to buy one curry leaf plant for your entire life! If you buy from us and the plant is dead on arrival or you have issues within the first month please contact us!

Speed & Delivery

Everyone is worried about plants arriving in the mail and would rather get one locally. Trust us when we say this is the most convenient option out there! You will have a perfect delivery with a guarantee at your doorstep!
Will my plant survive in the mail?

Yes! Curry Leaf Plants are tough and are able to tolerate shipping stresses. Through years of shipping plant experience, we have developed an effective packing process that minimizes the chance of plant stress or damage during shipping. We use different packing materials like craft paper, sleeves, air pillows, cardboard inserts to ensure your plants have a safe trip.

How much should I water my curry leaf plant?

The best thing about watering a curry leaf plant is to do it well, but very rarely. Make sure to let the soil dry out between waterings.

Summer if outdoors, water 1-2 times a week (if in a large pot), if its a smaller pot, water 3-4 times a week.
Winter if indoors, water 1 time a week at most (if in a large pot).

How soon will I get my plant after ordering?

We ship out plants the same day, in most cases you will receive it within 2 to 3 days after shipping!

At times it may get delayed up to 4 to 5 days, but this is not common. We pride ourselfs in fast shipping times!